Design Your Own Future
The DIY Major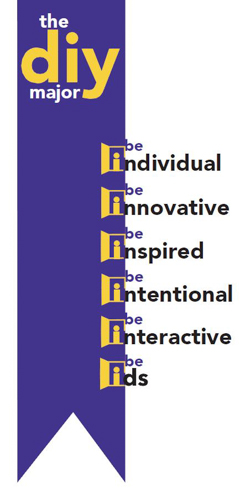 TheInterdisciplinary Studies Program (IDS) is unlike any other degree program at Appalachian State University. IDS students design their own major. If you have a strong interest in integrating concepts and methods from multiple disciplines, come chat with us about options.
We are looking for students who are
Self-driven
Passionate about more than one discipline
Interested in a major that is not offered at Appalachian State University
Interdisciplinary Studies allows students to get more than one point of view on the same topic by comparing, contrasting, and connecting information provided by separate disciplines. IDS majors work with an advisor to individually design a degree and to select courses that integrate several areas of study to achieve their academic goals.
Sounds Great! Now What?
Examples of Majors Designed by Our Current IDS Students
Self-Designed Majors

Combining Coursework from
the Following Disciplines

Sociomusicology

Music + Sociology

Cross-Media Expressions

English + Theater + Media Studies

Studies in Global Sustainable Architecture

Sustainable Technology + Global Studies + Anthropology

Global Community Engagement

Global Studies + Communication

Video Game Art and Design

Art + Computer Science + Computer Information Systems

Social and Psychological Framework for Communication

Psychology + Communication + Sociology

Design and Media Technology

Arts + Graphics + Computer Science

Environmental Planning and Communications Studies

Planning + Communication

Sustainable Communities

Geography + Planning + Sustainable Technology

Animal Studies

Philosophy + Anthropology

Arts Communication & Engagement

English + Curriculum Instruction + Communication

Contemporary Multimodal Storytelling

Curriculum Instruction + Photography