Associate Professor • Department of Interdisciplinary Studies • Faculty Affiliate in Art • Faculty Affiliate in Global Studies • Faculty Affiliate Gender, Women's and Sexuality Studies • Member of the Graduate Faculty
Ann Pegelow Kaplan is an Associate Professor in the Department of Interdisciplinary Studies, as well as faculty affiliate of the Department of Art, programs in Global Studies and Gender, Women's and Sexuality Studies, and a member of the Graduate Faculty. Her work occupies both the making and study of photography, as an artist who produces and exhibits work nationally and internationally, and as a scholar of photographic modes of representation who examines its interaction with issues of difference, privilege, and the potential of rights for humans and other beings. At ASU, she has also been a co-developer of the minors in Creative Engagement & Social Change and Documentary Studies, serves as a faculty reviewer for limited funding opportunities, and is an elected member of the University Research Council. She has also served as guest curator at the Turchin Center for the Visual Arts.
Exhibitions
Kaplan's photography and video installations have been exhibited nationally and internationally, including at the Institut für Politikwissenschaft, Universität Münster, Munster, Germany; Manchester School of Art, Manchester Metropolitan University, UK; Amos Eno Gallery, Brooklyn, NY; Academy of Visual Arts, Hong Kong Baptist University; Mendoncino College, Ukiah, CA; Manifest Creative Research Gallery, Cincinnati, OH; University of North Carolina at Chapel Hill + Click! Photography Festival, Durham, NC; Venice International University, Venice, Italy; Department of Digital Arts, University of Malta; Tahoe CoLab, Granlibakken Tahoe, Tahoe City, California; Carrack Modern, Durham, NC; Contemporary Art Center, Peoria, IL; tête gallery, Berlin, Germany; Hillyer Art Space and Fotoweek DC, Washington, DC; School of Visual Arts, Virginia Tech University; California Institute of Integral Studies, San Francisco, CA; De La Salle University, Manila, Philippines; FORMAT Gallery, Washington, DC; among others. Kaplan recently curated the exhibition Spectacle & Scaffolding: Contemporary Photography Muses Hierarchy. She is currently working on her first book project, which is also in the form of a dissertation. From from art portrait to selfie and surveillance video to algorithm, her work considers what a contemporary photographic portrait is and how its form and use affects the notion of the rights of humans and other beings in the contemporary era.
Kaplan's work has been funded by the National Endowment for the Arts, SouthArts, the North Carolina Arts Council, the Ford Foundation, and others. She has been invited to present her work at the F/Stop Festival für Fotografie in Leipzig, Germany; Digital Humanities Summer Institute at the University of Victoria, Canada; Philippines Arts Congress in Baguio City, Philippines; and the College Art Association's THAT Camp in New York, New York. In addition to speaking at the 50th Anniversary Meeting of the Society of Photographic Education in Chicago, Illinois, she has also been invited for a joint, all-Caucus talk by the combined SPE LGBTQ+, Multicultural, and Women's Caucuses. Kaplan previously served as Visiting Assistant Professor in the Department of Art and Art History at Elon University and Visiting Assistant Professor of Graduate Studies in the School of Fine Arts at Philippines Women's University in Manila, Philippines. She has been awarded two artist residencies with fellowships at the Vermont Studio Center.
In her previous professional life, Kaplan worked on many additional exhibitions and arts and cultural programs as Director of the Orange County Arts Commission, Research Assistant at the Southern Oral History Program, and Curator at the North Carolina Museum of History. She also holds a certificate in Non-Profit Management from Duke University.
Website
Education
PhD candidate, Philosophy, Art, and Social Thought, European Graduate School, Dissertation Advisor: Dr. Terry Smith, Professor, European Graduate School; Andrew W. Mellon Professor of Contemporary Art and Theory, University of Pittsburgh
MFA, Visual Arts: Photography & Digital Media, Clemson University
MA, Folklore/Ethnography, University of North Carolina at Chapel Hill
BA, Anthropology & Sociology, University of Mary Washington
Academic Specialties
photography and video, visual culture, critical and curatorial studies, philosophy of art and aesthetics, politics of representation, oral history, ethnography
Courses

ART 3230 / IDS 3230 - Photography as Social Critique
GLS 3532 - Global Dialogues
GWS 3545 - Seeing Gender
IDS 2211 - Exploring the Documentary Form
IDS 3260 - Creativity: Methods and Practice
IDS 4211 - Advanced Documentary Projects
Graduate Seminar/Independent Studies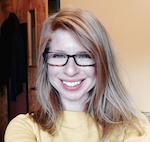 Title:

Associate Professor, Faculty Affiliate: Department of Art, Member of the Graduate Faculty
Department:

Department of Interdisciplinary Studies

Email address: Email me

Phone: (828) 262-8991

Fax: (828) 262-6400
Office address
113-LLA, Living Learning Center
Mailing address
305 Bodenheimer Drive
ASU Box 32080
Boone, NC 28608