Kristan has an interdisciplinary background and more than 15 years experience working to understand and improve the connections between cultural and scientific information related to developing environmental policy. Dr. Cockerill has coordinated policy projects at local, regional and federal levels and conducted research on diverse environmental topics. Most recently her work has focused on assessing regional attitudes about water, stream rehabilitation, and community water education. Prior to entering academia, she was on the staff of the Army Environmental Policy Institute. As a professor she has taught a broad suite of interdisciplinary courses at Appalachian State University, Columbia University's Biosphere 2 Center, and the University of New Mexico.
Education:
BA, Political Science, University of Illinois
MS, Journalism, University of Illinois
PhD, American Studies (Environment, Science, Technology), University of New Mexico
Selected recent publications:
Cockerill, K. Public Perceptions of High Quality Streams: Mixed Messages. Environmental Practice 18(1): 44-52.
Cockerill, K., P.A. Groothuis, T. Mohr, C. Cooper. 2016. Individualized Water Source as an Indicator of Attitudes about Water Management and Conservation in Humid Regions. Journal of Environmental Planning and Management 59(8):1341-1359
Cooper, C. and K. Cockerill. 2016. Water Quantity Attitudes in Northwestern North Carolina: Comparing Student and Public Survey Responses. Southeastern Geographer 55(4): 386-399
Swinson, B.J., K. Cockerill, J. Colby, S. Tuberty, C. Gu. 2015. To Restore or Not to Restore: Assessing Pre-project Conditions of a Habitat Restoration Project on the New River, North Carolina. Environmental Processes 2(4): 647-668.
Groothuis, P.A., K. Cockerill, T. Mohr. 2015. Water Doesn't Flow Uphill:Determinants of Willingness to Pay for Water Conservation Measures in the Mountains of Western North Carolina. Journal of Behavioral and Experimental Economics 59: 88-95.
Cockerill, K. and W.P. Anderson Jr. 2014. Creating False Images: Stream Restoration in an Urban Setting. Journal of the American Water Resources Association 50(2): 468-482
Cockerill, K. 2014. The Water Supply is Fine: Decision-maker Perceptions of Water Quantity and Supply Side Management. Water and Environment Journal.28(2):242-251
Cockerill, K., C. Badurek, R. Hale. 2014. Managing Water in Western North Carolina: Decision-maker Perceptions and Policy Implementation. Environmental Practice 16(2):94-101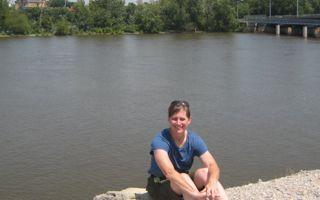 Title:

Professor
Department:

Department of Interdisciplinary Studies

Email address: Email me

Phone: (828) 262-7252

Fax: (828) 262-6400
Office address
137-LLA, Living Learning Center
Mailing address
305 Bodenheimer Drive
ASU Box 32080
Boone, NC 28608